EN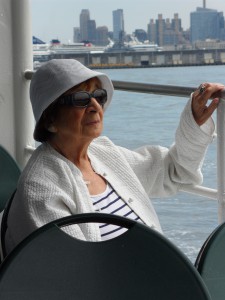 Ursula Mamlok (1923 – 2016)
Persecuted by the Nazis because of her Jewish heritage, she left Berlin with her parents, fleeing to Ecuador in 1939.
In 1940 she was awarded a scholarship to the Mannes School of Music and travelled unaccompanied to New York as a seventeen year old. In the years that followed, she studied composition, becoming one of the USA's most renowned women composers. In 2006, she returned to her native city, Berlin. Aged 83, she breathed new life into her career through numerous concerts across Europe, CD, radio and television productions; her biography, Time in Flux – The Composer Ursula Mamlok, was published and a documentary film, Ursula Mamlok Movements, was released.
Ursula Mamlok, originally Ursula Meyer (Berlin, February 1, 1923 – Berlin, May 4, 2016) lost her birth father in October 1924 before age two. In 1929, her mother Thea, née Goldberg, remarried and Ursula took the family name of her new stepfather, Hans Lewy. She initially attended a primary school on the Pestalozzistraße in the Charlottenburg district of Berlin, and then became a pupil at the Fürstin-Bismarck-Lyzeum, a secondary school for girls (today the Sophie-Charlotte-Oberschule).
She began piano lessons at a very young age, and from age 12 piano lessons and composition from conductor, pianist, composer and musicologist Gustav Ernest (Kwidzyn [formerly Marienwerder], July 5, 1858 – Amsterdam, November 28, 1941). She considered this period of study to be one of the high points of her life.
In April 1938 the Nazis barred all Jewish children from the Fürstin-Bismarck-Lyzeum. Ursula Lewy now had to attend a trade school instead, where lessons largely focused on ironing and bed-making. After only a few weeks, she was also excluded from attending classes here too – in this context a relief for the budding composer. She could now fully dedicate herself to her music and concentrate on piano playing and composition.
In the wake of Kristallnacht, Ursula Lewy's parents decided to emigrate – but time was running out. Fortunately, a relative based in Ecuador made contact. Thanks to his sponsorship, the family was able to leave Berlin in 1939 and to flee to Guayaquil, Ecuador.
But sponsorship was not forthcoming for the grandparents. Unable to secure the necessary Affidavit of Support, they did not survive the Holocaust. Grandfather Emanuel Goldberg died in the early 1940s for want of insulin, as the Nazis deprived Jews of access to medical supplies. According to the 'Holocaust Survivors and Victims Database', all three grandmothers most likely died of debilitation: Fanny Meyer, mother of Ursula's birth father, died in Theresienstadt on July 14, 1942, Erika Goldberg died in Treblinka in 1942 and Rosa Lewy on February 20, 1943 in Theresienstadt. In remembrance, Bettina Brand commissioned the placement of Stolpersteine – pavement commemorative plaques – outside No. 73 Sebastianstraße, Berlin, opposite the last address where her grandmothers Rosa Lewy and Erika Goldberg had lived.
After a thirty-day sea voyage the Lewys arrived in Guayaquil – no paradise for the budding composer. She took up her studies again as quickly as possible attending the Conservatory there led by Angelo Negri. However, she considered the training to be inadequate. She remained in contact for as long as she could with her teacher Gustav Ernest, via the extremely slow postal system. He had immigrated to the Netherlands in 1939 and died in Amsterdam on November 28, 1941.
In the summer of 1940 Ursula Lewy won a scholarship to attend the Mannes School of Music in New York. Fortunately, her ship's passage and the necessary Affidavit of Support to enter the United States had also been provided. These papers were only valid for one person however, so, aged just seventeen, she was forced to travel alone – without parents, without the language and without money. Hans and Thea Lewy did not join her until March 1941.
Her composition teacher at the Mannes School of Music was the conductor George Szell. He was extremely favorably disposed towards his student; however his teaching style was extremely conservative. Ursula Lewy wanted to break free of the mold of classical tradition and applied in the summer of 1944 for a three-month scholarship at Black Mountain College in North Carolina. She was accepted and it was there that she first became acquainted with the works of Arnold Schoenberg and the Second Viennese School. She had her first encounter with dodecaphony – Schoenberg's twelve- tone technique – when she attended a masterclass with Ernst Krenek and subsequently studied his work, in particular his study on twelve-tone counterpoint, Zwölfton – Kontrapunkt – Studien. This was also where she met Eduard Steuermann, with whom she studied piano for two years beginning the following autumn.
In San Francisco in August 1947 Ursula Lewy met her future husband, Dwight (Dieter) Mamlok. Originally from Hamburg, he had immigrated to the United States via Sweden. He was a businessman and the author of numerous poems and novellas. They married just three months later.
They lived in San Francisco until March, 1949 when, primarily at Ursula Mamlok's request, they moved to New York. Aged 26, she had no school qualifications, no university degree and consequently no job prospects. And she did not feel fully qualified to work as a composer.
Once again her skills as a gifted musician enabled her to secure grant funding, this time at the Manhattan School of Music. As she felt embarrassed about being in the classroom alongside those much younger than herself, she altered her date of birth, raising the last digit, a figure three, to an eight. The 1940s to 1960s marked her journey towards developing her own style and were led by her quest to find a compatible, highly stimulating composition teacher. Ursula Mamlok embarked on her odyssey.
She had already gotten to know the American composer Roger Sessions in 1944 at Black Mountain College and, seeing in him the perfect teacher, she took up private lessons. However, shortly thereafter in 1945 he received an offer to teach at UC Berkeley, so she was unable to continue her studies under his tutelage. She remained without a teacher for some time until someone recommended she approach Jerzy Fitelberg. During those few months of study with Fitelberg she produced her Concerto for String Orchestra. Jerzy Fitelberg died soon after in 1951. In 1952 she studied composition under Erich Itor Kahn and composed Piano Piece. Yet, here again, her instruction was cut short after he failed to recover from a serious accident in Paris. The ensuing conservative instruction under Vittorio Giannini at the Manhattan School of Music she later looked back on as a waste of time. Ursula Mamlok graduated with a Bachelor of Arts Degree in 1957 with the composition of her Woodwind Quintet – another personal high point for her, with her Master's degree awarded with her Scherzo and Finale for orchestra. During this phase she remained influenced by the composition styles of Paul Hindemith and Béla Bartók, even though elements of her own developing style were already audible in her works.
From autumn 1960 to January 1961 she studied composition with Stefan Wolpe (1902 – 1972), who likewise hailed from Berlin and was of Jewish heritage, and had immigrated to New York via Palestine. Two works for solo flute – Arabesque and Variations embody elements of the style she would further perfect in subsequent years and would render her own. Yet not until later in 1961 when she transferred to Wolpe's pupil Ralph Shapey did her odyssey reach its homecoming. He was endowed with the requisite sensitivity to afford Ursula Mamlok the latitude to develop her creativity and to combine this with new compositional techniques. Under Ralph Shapey she wrote Designs for violin and piano in 1962 and the highly complex String Quartet No. 1 in which she incorporates difficult, contrasting rhythms.
Ralph Shapey advocated for Ursula Mamlok and secured her first major performances. Thus her works were now performed at major US concerts and festivals by well-known ensembles such as Continuum, Da Capo Chamber Players, Music in our Time, Speculum Musicae, and The Group for Contemporary Music.
Over time, Ursula Mamlok reshaped her musical influences to her own conception. She herself refers to her Sextet from 1977 for flute, clarinet, bass clarinet, violin, double bass and piano as one of her most important pieces. A very special place in this composer's oeuvre is accorded to Der Andreasgarten (1987) for mezzo-soprano, flute and harp, a work written in collaboration with her husband Dwight Mamlok who wrote the lyrics for this piece. Ursula Mamlok's compositions thrive on contrasts and an intentional focus on dramatic development is particularly evident in her principal work Constellations (1991) for full orchestra, a piece commissioned by the San Francisco Symphony and premiered by conductor Herbert Blomstedt.
In her chamber music pieces too she always managed to evoke new moods through her use of Klangfarbe – acoustic color in the most unconventional ensembles. Despite their depth and dramatic richness, the structure of her compositions has always maintained a certain delicateness as exemplified by her virtuosic 2000 Notes for piano.
Ursula Mamlok taught theory and composition at New York University, Temple University and for 45 years at the Manhattan School of Music in New York. One of her best-known former students is the composer and conductor Tania León. Ursula Mamlok's husband, Dwight Mamlok, passed away in 2005. The following year, 2006, she decided to move back to her native home town of Berlin. There, she worked in close collaboration with Bettina Brand. This noted radio journalist and musicologist sparked new enthusiasm for her work, captivating a wealth of musicians not only in Berlin, but throughout Germany and across Europe. This allowed Ursula Mamlok, now senior in years, to embark on and enjoy a new successful phase of her career as witnessed by a plethora of concerts, CD, radio and television productions. Her biography Time in Flux – The Composer Ursula Mamlok, written by Habakuk Traber (Böhlau-Verlag) was published in 2012. The composer attended the premiere of the film documentary Ursula Mamlok Movements by Anne Berrini at the Hackesche Höfe Kino (cinema) in Berlin.
Despite being advanced in years Ursula Mamlok continued to compose. During her last decade in Berlin she produced ten compositions for various chamber music ensembles commissioned by renowned musicians such as Holger Groschopp, Heinz Holliger, Kolja Lessing, Jakob Spahn, Cheryl Seltzer and Joel Sachs, and Spectrum Concerts Berlin. The very last concert she attended in Villingen- Schwenningen, Germany on April 8, 2016 she considered a highlight, with a new version of 2000 Notes for marimba, xylophone and glockenspiel arranged by Yu Fujiwara.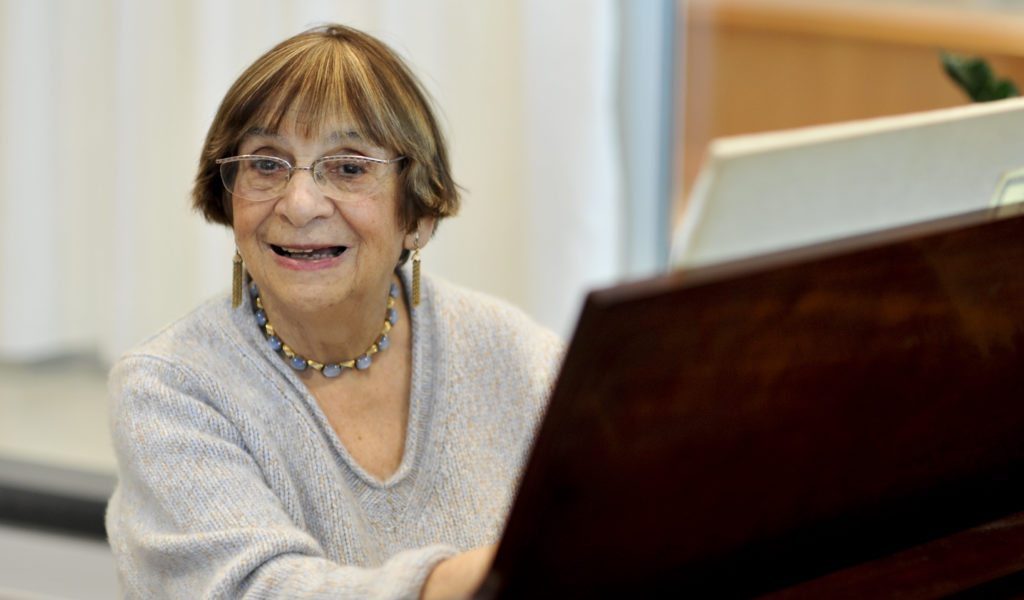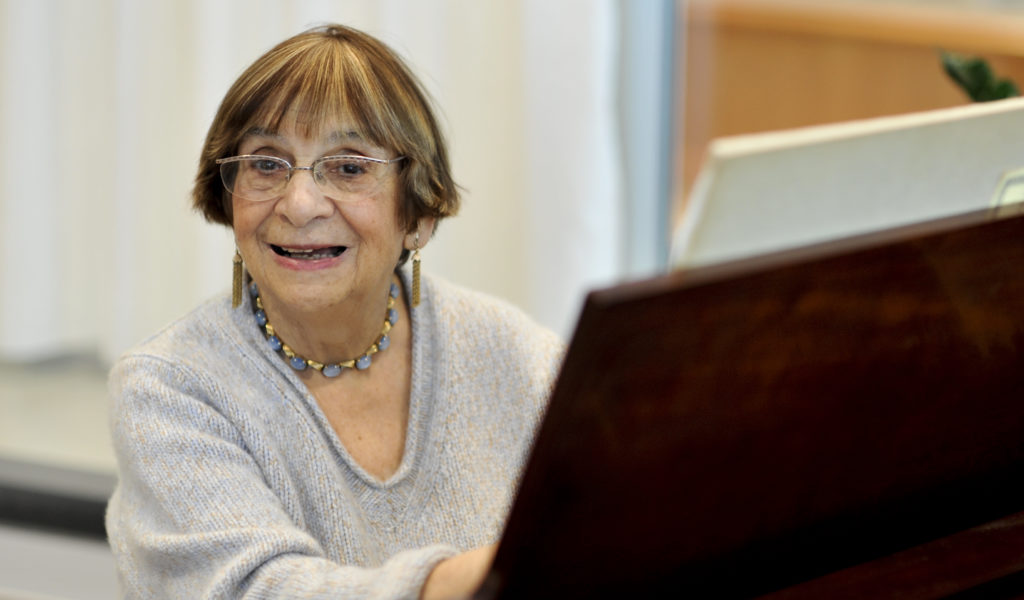 Ursula Mamlok, März 2009
Foto: Simon Pauly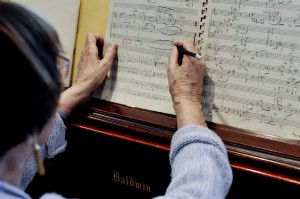 Ursula Mamlok, März 2009
Foto: Simon Pauly
Ursula Mamlok died a few weeks later on May 4, 2016. She was buried in the Jewish Cemetery in the Weissensee district of Berlin, alongside the grave of her birth father.
During her lifetime, she had not only stipulated in her will that the Dwight und Ursula Mamlok- Stiftung (Dwight and Ursula Mamlok Foundation) was to be created, she had also determined the Foundation's Charter. And she had, in addition, selected those to be appointed board directors and to the management team. The Foundation launch was celebrated in Berlin with an event hosted in the plenary rooms of the Akademie der Künst (Academy of Arts) in Pariser Platz on February 3, 2017.
Ursula Mamlok's oeuvre encompasses orchestral compositions, choral works, vocal compositions, works for varied instrumental combinations for chamber orchestras and solo pieces. Most of her compositions are published by Edition C. F. Peters and Boosey & Hawkes.
Ursula Mamlok received numerous prizes and awards including:
2013 The Order of Merit of the Federal Republic of Germany, First Class
1998 Composer of the Year, awarded by the International Society for Contemporary Music 1995 John Simon Guggenheim Foundation Fellowship Award
1994 Guest Composer, the 50th Anniversary of the Composers Conference at Wellesley College 1993 AMC Composer Assistance Program, Copying Assistance Program Award
1992 The University of Akron, Residency
1989 Mary Flagler Cary Trust Recording Program Grant
1989 The Walter Hinrichsen Award in Music, American Academy of Arts and Letters
1989 Koussevitzky Music Foundation Grant
1987 BMI Commendation of Excellence
1986 ACA-Opus One Recording Award for Der Andreasgarten
1982 The Martha Baird Rockefeller Fund for Music Recording Award
1981 National Endowment for the Arts Grant
1981 SAI and National Flute Association First Prize for Panta Rhei
1981 American Academy and Institute of Arts and Letters
1981 The Martha Baird Rockefeller Fund for Music Recording Award
1973 National Endowment for the Arts Grant
1971 Paul Price Award for Variations and Interludes
1968 National Endowment for the Arts Grant
1963 National Endowment for the Arts Grant
1959 First Prize: Fawick Orchestra
1952 First Prize: National Orchestral Association
1945 First Prize: National Federation of Music Clubs
DE